Do you know what Search Engine Optimization (SEO) is? If you are an expert in Marketing, indeed you do; if you are not, do not worry because, in this blog, we will see from its meaning how to make a strategy from HubSpot.

SEO is a series of strategies and optimization techniques for a website to appear organically in Internet search engines. If it has been clear to you so far, let's define the two types of SEO in which we can work on a strategy to improve search results for our business or brand.
>> Learn about the Inbound methodology here <<
Content SEO:
All the content with which we feed our website, such as blogs, videos, infographics, ebooks, downloadables, newsletters, Etc., contributes to the monthly marketing strategies. This type of SEO or optimization involves the keywords used and the target audience. The way we write and use our content is fundamental to speed up searches in browsers and, therefore, an easy way to be found by our potential customers.
Technical SEO:

It is an optimization process that you should give to your website. This process helps in the crawling and indexing phase of search engine content. But, how is that? This type of optimization ensures that search engine robots easily understand all the content and, indirectly, it favors the user experience by making navigation more agile. In addition to technical SEO, it is also essential to have relevant and authoritative content.


Primary applications for technical SEO
If these fundamental aspects of your page or content are not correctly, likely, your SEO is not optimized.
URL optimization:

Verify that the addressing has a logic for search engines. There are no strange codes, "ñ" or accent since these alter the URLs and cause addressing errors.

Avoid duplication of content:

Use canonical tags. Suppose you have similar content on several pages of your website. In that case, search engines may penalize the SEO ranking of those pages.
Server issues:

optimize the loading speed, and change the HTTP header.

Display

:

Adapt all your content to a responsive version as part of mobile optimization.

Metadata

:

Optimize your business description, include logo image, and improve user searches.
How search engines work
Now that we know the different types of SEO, I would like you to understand how search engines work. Once you know them, you will know that optimizing your page is about pleasing them through the proper steps.
Search engines use robots that crawl web pages to learn about your content. When they gather enough information about the content of your pages, they index them. That is, they register them. Then when a user searches, the search engine algorithm offers the indexed information that most accurately matches the user's search.

Now yes, let's apply what we have learned within our CRM... but how to make an SEO strategy in Hubspot?

Below, I recommend a list of tasks to make an SEO content strategy. Hubspot is quite simple to carry out.
Make a list of topics you would like to address in your content or related to your services or products. Put yourself in your potential customer's shoes and think about what they might be interested in, especially when it comes to content. They usually are looking for those that solve their doubts or give an answer to what they want.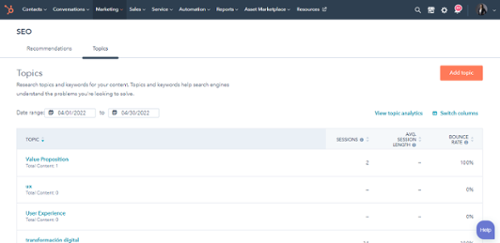 Create a pillar page or page for each topic

Create a pillar page for each topic that allows you to cover your target keywords. Use the main issues defined above. These can be a table of contents that describes the main case and informs you of the subtopics covered in other content. The number of issues should match the needs of your business, such as the number of products or services you have.
Create a blog

Generating a blog can be an excellent option to position keywords you cannot include in your list of topics and, therefore, in your main pages. Generate content that users will like without losing the SEO approach started with the issues. It would be best if you did not forget to optimize each of your blogs. It is a role to a topic, subtopic, meta description, and alt text for each of the images used within it.
Once the blog is published, interlink the information between several pages and posts. Developing an architecture of internal links handy for providing authority to the inner pages, which in SEO we know as "interlinking."
SEO requires much time, effort, and investment, and that's why you'll want to know if your strategy is working. You can monitor traffic with Google Analytics, which is 100% compatible with Hubspot, and create your dashboard in Google Data Studio to better understand the data and its evolution. Also, add the growth of rankings, indexed pages, conversions, or any other interest metric.

And that's how I recommend you create a consistent content strategy for your business. Do you need help to implement yours? Don't hesitate to contact us and show us your ideas!