From the first year of operation of any company, one of the main challenges in its day to day is the management of the relationship with its customers. Throughout history and according to the type of industry in which your business is developed, the way in which contacts were managed was quite different from how many companies develop it today.
Previously, through mass communication strategies, companies attracted the attention of their customers to their different points of sale, show rooms, exhibitions open to the public, but the focus of these strategies was not the capture of their data, the management since they get to know us, consume our products and services, and post-sales follow-up was just that.
Companies were only concerned with attracting people, attracting their attention to our business activity. Nowadays, management has changed, it is no longer only important that attention, in an era full of information, where people are in high contact with hundreds of brands daily, that is the reason why we require a means by which we follow up and store their data to attract them, manage their activity, needs and get them to be a loyal customer to our brand; at that moment is when the use of a CRM or better known as (Customer Relationship Management) is crucial.
In this blog you will read about:
How to apply it to my business?

CRM types, differentiators, and their capabilities.
What is a CRM?
In case you are not familiar with this business management tool, a CRM is a tool that is responsible for managing the relationship between companies and their customers, it is more than a platform or software, a CRM is a set of strategic and technological processes that together collaborate in the storage, management and analysis of all interactions has maintained, is performing and may exercise the customer with our brand.
In the market there are many types of CRM, prices and although each one will have differentiators and different benefits depending on the industry, it is important to understand that all maintain the same objective, to be an instrument that collaborates with the business strategies of our company, to help us manage the relationship with our customers and improve the ways in which we previously managed their activity.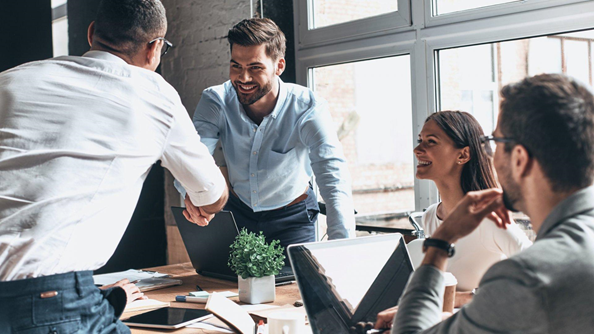 How to apply it to my business?
Perhaps before identifying new needs for our company, we tend to think first about our problems, ¿don't we? In our company, what have been the problems we have had in recent years in terms of managing our customers? Let's analyze this in perspective of our customer's customer journey by means of an example. "Our customer searches for our product or service on social networks, our website or simply finds our company or premises, enters, searches for a product or service of interest and generates a purchase". In types of examples like this it is important that we can answer the following questions to generate a diagnosis of the current relationship with our customer:
Is there a mechanism within the platform or tool we use to manage our customers with which we can visualize the activity they have had with our brand in the last 6 months?
If our customer regularly gets information or downloads content from our website, do we have a tool that analyzes all these interactions they have had with our company?
If the customer entered through our social networks and communicated with us, within the management of the platform, were we able to obtain their name, email or phone number or was there no process or automation within the platform that collected this kind of information?
If a customer enters our website to buy one of our products in our online store, besides knowing what product he/she purchased, do we know if he is a frequent customer or if he/she has left abandoned carts, do we know the amount of money he/she invests in our brand's products, do we know how much money he/she invests in our B2C or B2B eCommerce at all?
Every time one of our frequent customers has a birthday, celebrates Father's Day, Mother's Day, or any holiday of relevance to our business, is this customer sent an automated email reminding them of our brand, discounts on products?
Can we distinguish our

Buyer Personas

within the platform or tool in which we manage their activity?
If at the time of considering all these questions, you need to rethink within the company the way in which they have raised the model and strategies focused on managing the relationship with their customers.
It is the ideal time to opt for the implementation of a CRM for our business. Among the basic features and benefits of a good CRM for your business we can find:
Adaptation to the business model

:

A robust CRM as mentioned above focuses on managing the relationship with customers; this regardless of whether our business is a company within the retail industry, in the banking and finance sector, food, focused on selling consumer products, hospitality and others.
A CRM helps you to manage the constant efforts and business processes of the different departments of your company regardless of the type of industry in which your business is developed and this is possible because according to the volume and growth of your business there will be a CRM suitable for your needs.
Increased productivity of the company's teams

:

Robust CRM allows a company to automate processes. Processes such as: sending emails in

social media campaigns

, generating a personalized follow-up that targets specific types of customers such as the Buyer Personas of your business. Internal task assignments between teams and other areas related to the daily management of customers.

Broad segmentation and customer loyalty:

Among the features of CRM's with high projections in the market such as

HubSpot

,

Marketo

and

Salesforce

there is the possibility of segmenting contacts within large databases that companies from small to large size need. In these CRM's, your company will be able to analyze ALL the history of each one of your clients, no matter if they are B2C or B2B clients, they are ideal tools for the management of the relationship with them.

Promote Omnichannel Experience: The best CRMs promote a culture in which all departments of your company, their efforts and processes can coexist within the same environment, without the need for practices within other platforms or having to acquire them. Imagine being able to administrate:
All your business' customer contacts.

All interactions with new prospects visiting social networks, websites and organic leads generated in real time with your business.

The management and reporting of the different departments to promote the quality control of your business.

The high range of configurations and integrations with applications within CRM.
These aspects are some of the many benefits and most important features of the most complete CRMs. It is important to consider that although a CRM fits the basic needs of a business, it is important to consider which one is the most robust and will provide the best conditions and benefits to your business.
CRM Types, Differentiators and Capabilities
It is important to consider that not all CRMs are the same. According to the objectives for which they were created, some may be more or less feasible for a company's business model. Given that there are:
Analysis or analytical CRM.

CRM for collaborative use: For use among several functions.

CRM on demand or subscription: its cost can be scalable so it can be adjusted according to the size of the company.

CRM for large companies: They are usually created by large business corporations, they are also usually expensive, this are managed by the client and the client designates the users of his business.

Strategic CRM or in the cloud: These, unlike the other types, exist in the cloud and are highly customized, so the level of adaptation with the company is faster and friendlier.
The following are three of the most popular enterprise-level, robust CRM types and their most important differentiators:
HubSpot:

Although it could be confused with a strategic CRM, it was created by the same company. In HubSpot you can manage different types of licenses both together and separately, it has a free version, unlike other platforms its use is very friendly and favors

omnichannel

(support between departments in the same environment such as: sales, service, marketing among others), within all aspects to consider when implementing a CRM could be considered as one or if not the best CRM for your company

.
It has a Marketplace with hundreds of applications for integration, partners that provide platform services. It efficiently adjusts to different business and strategic methodologies between departments such as: Design Thinking, Lean Startup, Agile, CX (Customer Experience), Inbound Marketing among others.
It also has a community with which there is the possibility of interacting with other companies promoting growth and a HubSpot Academy with which as your business scales with the use of CRM can also get between users of the company which are certifications given by the company to expand the professional development of each user of the company and that additional in the case of partners can get merits from HubSpot to provide their services and is part of the market leaders in the CRM market.
Marketo:

This is an ideal CRM for large companies created by

Adobe

, it is robust and ideal for large enterprises or businesses with constant growth like HubSpot can also handle a large number of integrations, configurations and customizations within your environment, its cost may be higher than many other types of CRM, but when applied in conjunction with business methodologies its potential is maximized to large scales and also has courses and certifications in the tool.
Salesforce:

This subscription CRM is one of the main and most successful CRMs that exist, it is based on the fulfillment of objectives and success just like your business, it is extremely reliable, it is an application developer and just like the previous ones we have mentioned, it has many integrations and customizations within its environment. Salesforce is one of the main leaders in the market as a CRM, in addition to having courses and certifications.
If you feel interested in learning even more about CRMs, how it can help you and which one might be more feasible for your business. Here are some templates that will be useful for you: