Imagine you are a small businessman, in this particular case a un CRM would be in your head, you probably already know that Susana prefers products of a certain shape, that Esteban buys a certain product every week and so on with your recurring customers. But, what happens is that when we talk about companies that have hundreds of customers and also have a team of professionals involved in different areas, it is impossible for everything to be stored in one head. Besides, it's not only the fact that you can have all that information at hand, attending to a vast clientele is a heavy and time-consuming man.
Effective customer relationship management is essential to the success of any business. CRM is a tool that not only facilitates contact management, but also automates a variety of key processes. In this article, I want to show you some fundamental processes that can be automated with a CRM and how this can drive efficiency and improve the customer experience. I will provide you with very timely examples on world leading CRM platforms such as HubSpot, Salesforce and Marketo.
Index
Contact management automation
An essential part of any CRM strategy is contact management. Every interaction with a customer, whether in person or online, as well as all types of outreach, generates valuable information. This data helps us understand the status of the relationship with the customer, whether they are happy, uninterested, dissatisfied, etc.
This allows us to understand the needs and preferences of our customers, which in turn helps us to a personalize our customer service. However, manually collecting data on each customer can be overwhelming. This is where CRM comes in. This tool can automate data entry, recording each interaction instantly, allowing us to have a complete view of the customer relationship.
In HubSpot we have a clear example of this automated process. HubSpot allows you to track a lead's online interactions. When a visitor fills out a form on a website, HubSpot can automatically create a contact record and start recording their activities on the site, such as pages visited or emails opened.
These are some of the advantages of lead capture and synchronization in HubSpot:
Unify lead capture data
Database segmentation and nurturing
Lead qualification and prioritization
Lead monitoring with attractive emails
Opportunity management automation
The automation of opportunity management is essential in a CRM system, as it allows us to optimize the sales follow-up and closing process. This feature makes it easy to identify sales opportunities, track their progress and allocate resources efficiently. With opportunity management automation, we can improve collaboration between sales and marketing teams, leading to greater efficiency and increased conversion rates.
Salesforce offers advanced opportunity management automation. We can set up workflows that are automatically triggered for opportunity follow-up. Salesforce can send follow-up emails or schedule tasks for the team based on successful management..
In the opportunities tab we can register the sales stages of a product and as a team we devise a strategy to close the sale. Here is all the information we need to work on that opportunity strategically.

We have a stages section that represents the sales process, this guides us step by step to what key activities we must take to close a negotiation. All fields can be customized to fit the unique characteristics of our company's sales process.
We can also see the activities to be performed and those completed, so that at any time if we return to that opportunity it is easy to identify its status.
We can also see the activities to be performed and those completed, so that at any time if we return to that opportunity it is easy to identify its status.
Sales tracking automation
Proper follow-up of sales opportunities is crucial to business success. A CRM simplifies this process by automating tasks related to follow-up. We can schedule reminders for follow-up calls, activity tracking and status updates, ensuring that no opportunity slips through the cracks and that all interactions are recorded effectively.
By automating business processes we can know how to meet present and future needs of our leads and anticipate them. We can know how to meet the present and future needs of our leads and anticipate them. This not only improves sales management, but also increases the conversion rate and the effectiveness of strategic decision making.
HubSpot can automate sales follow-up by scheduling reminders and alerts. For example, if a sales rep has to make a follow-up call in two weeks, HubSpot can automatically send a reminder to their calendar and send a follow-up email to the customer on the scheduled date.
Apart from notifications, HubSpot has a wealth of tools for sales opportunity tracking, as well as email templates, workflows for creating tasks and activities, lead tracking and nurturing sequences, etc.
With these sales tracking tools we can monitor the status of each stage of the sales process. This allows us to understand and attend to each step of the buyer in a timely manner to provide a better experience and ensure conversion.
Customer service automation
Customer service is essential for any business to be successful. A CRM allows us to record every call, email and action made by customers, even interactions through impersonal online customer service systems such as chatbots. This information enriches the quality of customer service by allowing us to handle a deeper personalization of responses and actions. In this case, our team can offer more precise and efficient solutions, which improves the customer experience.
With Salesforce Service Cloud we have a tool that allows us to assist our customers through the channels they prefer, email, phone calls, messages or chat. By accepting a request we will have everything at hand to personalize each conversation y and assist the customer in an intuitive and comprehensive workspace, with a complete view of their relationship with all departments and consolidated data. We can also send automatic e-mail responses to confirm receipt of a case and provide resolution time estimates.
Embedded Artificial intelligence shares curated recommendations and database items to help us interact better and be more productive, which in turn provides customers with a personalized experience whatever the context of the conversation.
We can then act on those recommendations to accurately take the next step and initiate workflows to automate tasks across teams with the most appropriate solutions. Salesforce allows us to create powerful workflows, and apply them anywhere, whether it's our console, in the mobile app, or directly to the customer in a chatbot conversation or self-service portal.
Marketing automation and campaigns
Effective marketing is essential to attract and retain customers. A CRM offers a wide range of tools to automate marketing campaigns. We can set up email sequences using the information stored in the database, allowing us to send relevant and personalized content at the right time. This increases customer engagement and conversion, and allows us to measure and adjust our marketing strategy more effectively.
Undoubtedly, when it comes to marketing automation, one of the best options on the market is Adobe Marketo. One of Marketo's strengths is its focus on marketing automation, this platform specializes in helping companies automate and manage a variety of marketing activities, allowing them to improve the efficiency, personalization and performance of their marketing campaigns.


Even the best marketing team can't manage all the data and unique customer journeys. To continue to grow, we need to automate that process in order to find the right leads and nurture relationships. Marketo uses AI data to automate marketing tasks and workflows while tracking impact and reach. Here's how you can put your marketing on auto:
Audience creation and segmentation:

You can use AI to create and segment your audience with simple, multi-channel demographic and behavioral data, allowing you to get a holistic view of potential customer data.

Multichannel customization:

You can easily customize your web pages, emails, social networks, advertising, SMS and events.
Scoring and relationship building of prospective clients: You can strengthen your revenue generation process with the commercial team by jointly developing intelligent scoring and rating models across all programs.

Activated activities:

You can automatically launch a campaign or respond in real time with personalized content the moment a customer fills out a form, visits a web page or changes their prospect score..

Performance analysis:

You can measure revenue performance by channel or program through metrics such as revenue, sales funnel, investment, ROI and leads generated to determine which investments bring the highest return.
Automation of reports and analysis
Data analysis is fundamental to data-driven decision making. A CRM is a powerful analysis tool that uses the data collected to generate graphs and statistics that reflect the performance of our strategy. This automation facilitates the detection and correction of failures at any stage of the sales funnel, continuously improving the efficiency of business operations and ensuring that we are on the right path to success.
HubSpot provides customizable reports and dashboards that are automatically updated with real-time data. We can set up reports that show key metrics, such as lead-to-customer conversion rate, and automatically receive them in our inbox.
These dashboards make it easier for us to evaluate the performance of our strategy, we can have a clear and real-time view of the performance of marketing and sales activities. For decision making in terms of adjusting strategies and optimizing efforts for better results.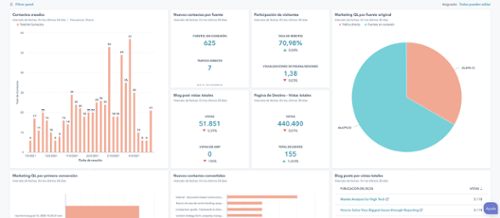 With this in mind, among the concrete benefits of customizing our dashboard with HubSpot are:
You can improve customer acquisition analysis: That is, find out where your prospects are coming from and what convinces them to close a sale.
Help your managers evaluate the effectiveness of your sales and customer service team.
Your marketing team can study the efficiency of each of your campaigns: This is to replicate what works and modify strategies that do not attract prospects.
With HubSpot's dashboards it is possible to customize which metrics are most important to your business: These can range from the performance of your teams, number of sales, customer acquisition, amount of each deal, expected and obtained revenues, among others.
It is very easy to create specific reports: This allows you to share with other members of your team so that everyone has access to the same information.


There is no doubt that automating these six fundamental processes with a CRM offers many benefits for companies. From contact management to sales tracking, customer service, marketing and data analysis, a CRM is a versatile tool that drives efficiency and customer satisfaction.
If you are considering implementing a CRM in your company, we recommend you to explore the options you have in this article, all of them are leading platforms worldwide, at Imagineer we can help you identify which option fits your business needs.
Investing in a CRM allows you to automate tasks, save time and resources, which becomes a boost to obtain solid results in your customer relationship management strategy. Why don't you take the plunge and discover all the advantages that a CRM can offer your business? You won't regret it!